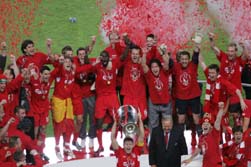 Uefa has insisted it does not intend to change its rules to allow Liverpool to defend their Champions League crown.
Liverpool finished fifth in the Premiership – missing out on automatic qualification for next season's competition.
"I fully sympathise with the club and I would love to have them in there – but we have rules," Uefa spokesman William Gaillard told BBC Radio Five Live.
"We can't change them in the middle of the season. The FA has said Everton are the fourth English club to qualify."
But Liverpool manager Rafael Benitez is convinced his team should be allowed back into the Champions League next season after their remarkable penalty shoootout victory over Milan in Istanbul.
"We have won the trophy. It is common sense that the winner should defend the title," said Benitez.
"It's quite unbelievable to even consider that a side who will play in the European Super Cup as well as the World Club Championship next season should not be allowed back into the Champions League."
Meanwhile, Liverpool chief executive Rick Parry has also made a plea to Uefa: "Look at the support, the worldwide audience and the game.
"I think we have to be given a shot. We are worthy champions and I think that's what the world will say."
Liverpool get to keep the European Cup trophy after winning it for the fifth time.
Parry added: "At least we get to keep this one so they can't take it back off us if nothing else.
"You wouldn't have given a lot for our chances at half-time but the boys were absolutely magnificent.
"It's good to win it for the supporters because they were magnificent."
And Liverpool skipper Steven Gerrard added: "It is called the Champions League so the champions should be able to defend it."
Milan coach Carlo Ancelotti said: "Yes, I think they should be allowed to defend the title."