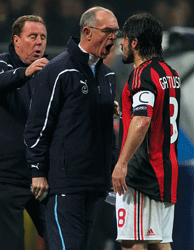 Visit our dedicated Europa League betting centre for the best odds on EVERY match this midweek…
UEFA has initiated disciplinary proceedings against Milan midfielder Gennaro Gattuso following his conduct in Tuesday's match against Tottenham.
A 1-0 win for Spurs in the first leg of their Champions League tie was marred by ugly scenes after the game as Gattuso confronted Tottenham coach Joe Jordan.
Having earlier clashed with Spurs' assistant coach on the touchline during the match, Gattuso appeared to head-butt Jordan at the final whistle.
Several players from both sides became involved in a melee that followed although Gattuso later apologised for his actions.
"I lost control. There is no excuse for what I did. I take my responsibilities for that," he said. "Jordan busted my balls for the whole second half, but I should not have reacted like this. I apologise, and if a ban arrives I will accept it."
"I was nervous. I didn't want to argue with players and I did it with him, but I was wrong to do what I have done."
Gattuso is already suspended for the return leg at White Hart Lane after picking up a yellow card on Tuesday but could now face a lengthier ban.
Uefa's Control and Disciplinary Body will meet next Monday to discuss the case.
Gattuso's agent, Claudio Pasqualin, claimed that Jordan provoked his client by calling him a "fucking Italian bastard".
"What seems evident to me is that my client was strongly provoked by Joe Jordan," Pasqualin told Napoli's Radio Kiss Kiss.
"Jordan, after having continuously heckled him, insulted him with truly low phrase, saying 'Fucking Italian bastard'. For one like Rino, who has a strong sense of his Italian identity, I think this is the most disgusting and unjustifiable of insults."
Visit our dedicated Europa League betting centre for the best odds on EVERY match this midweek…
Take advantage of the sales by saving up to 36% on a subscription to World Soccer