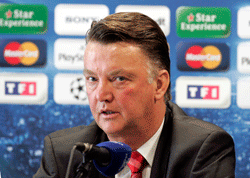 Chelsea are now a best price 11/2 for the Champions League after their 2-0 win over Copenhagen last night…
Bayern Munich coach Louis van Gaal was delighted with his side's performance in their 1-0 away win in the first leg of their Champions League Round of 16 meeting with holders Inter, but has warned that the tie is not yet over.
Mario Gomez's 90th-minute winner was enough to see the Bundesliga side take a slender advantage back to the Allianz Arena and Van Gaal feels his side deserved to win.
"We must have had more than ten chances to score, though Inter had eight of their own," said the Dutchman.
"It was an absorbing game and, in the end, we deserved to win. I had hoped we could decide the game earlier as Inter began to tire but we squandered our chances. It was a big step towards the quarter-finals but Inter are a very good team, as we saw today.
"Even this could have ended differently, but considering we were away from home we gained a deserved win. At half-time I told my team to gain better control of the game. In the first half we played like the home side but after the restart we improved, and I expected our goal to come earlier.
"We moved closer to qualification but Inter are a great team and we should not act like we already have our ticket for the quarter-finals. Our victory is deserved.
"The defence played very well, but we must make further progress in the movement of the ball.
"I was always convinced about Thomas Kraft. He showed his qualities, his great reflexes on the line. He stayed very calm during the game and that was important to us. Luiz Gustavo played very well defensively, but has room to improve when it comes to speeding up the game when we have possession."
Although Inter coach Leonardo was disappointed at his side's failure to capitalise on a number of chances, he believes they have still have a chance of progressing.
"The goal came out of the blue as everyone was already thinking about the goalless draw, despite countless chances at both ends," he said.
""I think the defeat is unfair: we played against a tough side that moved the ball with accuracy and attacked up the flanks, but we covered the spaces very well. Gomez scored the winning goal – he hadn't done anything until then.
"Both teams played an open game and unfortunately we couldn't get the breakthrough, despite creating five or six clear chances. Anyway, I am not worried because I think we can win in Germany. It will be a difficult game for sure, but it would have been hard even after a 0-0 draw here in Milan.
"The players are beyond reproach; we played at the same level as Bayern and their keeper made several good saves. We didn't need another striker tonight, just a little bit of luck."
Chelsea are now a best price 11/2 for the Champions League after their 2-0 win over Copenhagen last night…
Take advantage of the sales by saving up to 36% on a subscription to World Soccer