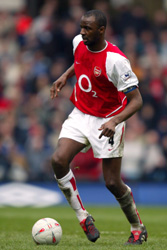 Arsenal vice-chairman David Dein is due to meet Patrick Vieira for talks which could result in the France midfielder joining Real Madrid.
Real Madrid sporting director Emilio Butragueno has confirmed that the club were keen on making the 28-year-old their latest signing.
"He's a very interesting player and he's very important for us and our club," the former Real striker said on the club's Japan tour.
"We're not there yet. It's a long process … I think this week will be decisive."
Real spokesman Marta Santiesteban added: "Talks are going on."
Arsenal boss Arsene Wenger said this week he was confident Vieira's future lay with the London club.
"I have said it 100 times, there is nothing to talk about," Wenger told the Arsenal website.
"He will not go to Real Madrid. If that was true it would have happened a long time ago.
But Vieira missed Arsenal's training session in Austraia last night, fuelling speculation that he is on the verge of leaving the club.
Also, it emerged that Real Madrid and Arsenal had been in tallks about the player for several days despite Wenger's insistence that Vieira is staying at Highbury.
Dein has already told Real Madrid that the minimum transfer fee for the Arsenal captain would be £30m.
The one obstacle to any deal could be Vieira's wage demands. The midfielder is not deemed to have the same marketing potential as previous Madrid signings such as Zinedine Zidane or David Beckham and his salary would reflect his diminished status. Indeed, Vieira may be asked to take a pay cut if he intends to pursue his career in Madrid.