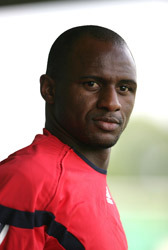 Juventus midfielder Patrick Vieira has hinted that he would consider joining Manchester United.
Vieira, 30, will leave Juventus, who have been relegated from Serie A following their part in Italy's match-fixing scandal.
There had been speculation that he would move to Inter, but that switch appears to have faltered and United manager Sir Alex Ferguson, has always been an admirer of the former Arsenal midfielder.
"Every player wants to play for a club like Manchester United," revealed Vieira.
"After nine years at Arsenal it might be difficult but anything can happen."
The Frenchman almost moved to Old Trafford in 2001 and 2003, only to undergo a change of heart and remain at Arsenal.
One thing appears certain, Vieira will not be playing for Juventus next season.
"Now I'm not sure where I'm playing next season, I'm still looking for a new club," he added.
"There might be some sort of conclusion in the next 48 hours and it's a very important decision for me.
"I will not be playing for Juventus since they are going to Serie B."
Emerson and Fabio Cannavaro left Juventus last month to join Real Madrid, while Gianluca Zambrotta and Lilian Thuram moved to Barcelona.