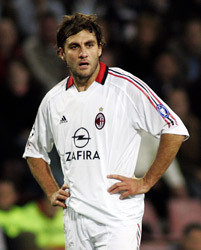 Italian striker Christian Vieri has completed his move from Milan to Monaco.
A statement issued on the official Milan website said: "AC Milan [have] traded Christian Vieri to AS Monaco.
"The player will be in Monaco tomorrow morning [Tuesday] to take physical tests and he will then sign a contract with the new club."
Vieri is expected to sign a two-year deal with Monaco.
Milan vice-president Adriano Galliani said: "I'm sorry he's gone because I remain convinced that he still could have done very well at Milan but I understand his decision, in this World Cup year."
Monaco coach Francesco Guidolin said: "It is an excellent thing for me because he is a target man and the other strikers are more support players.
"He was on the list of players I wanted. I will speak to him immediately about what I expect of him but what will be best is if he can play and be ready quickly."
Vieri made little impression since joining Milan from city rivals Inter and recently expressed concerns over his place in the Italy squad. He has scored only twice since joining Milan in the summer.
Subscribe to World Soccer – The essential football magazine