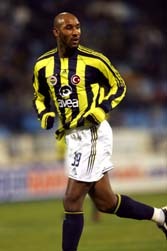 Villarreal have become the latest club to express an interest in signing French international striker Nicolas Anelka from Bolton Wanderers, according to Marca.
According to report the club will move for the 29-year-old striker should they fail in their bid to sign Brazilian international Julio Baptista.
Last week Bolton manager Sammy Lee said his club was ready to accept offers from English or European clubs if they received a realistic offer for Anelka.
Were Anelka to join Villarreal he would line-up alongside two other former Arsenal players, central defender Pascal Cygan and former French international Robert Pires.