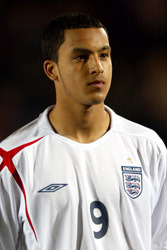 Teenage striker Theo Walcott seems unfazed by the prospect of playing at a World Cup after being named in England's squad on Monday.
Walcott, 17, has not played a competitive game since joining Arsenal from Southampton in January, ut he seems undanuted by the thought of the step-up to international football.
"At Southampton I was 15 going on 16 (when he played in the first team) and dealt with a lot of pressure," he told BBC Sport.
"I'm a bit more mature now, so I think I'll find it easy (to cope) really."
"I've improved by training with world-class players and have been doing really well lately.
"I feel fresh – I haven't played for a while. I just want to get a couple of games under my belt now.
"When I moved here (to Arsenal) I was very nervous – my hero was here, Thierry Henry – but now I've settled in fine.
"I did go to the Bernebeu and was itching to get on and there were 80,000 there – you can't get bigger than that really.
"I've also played in front of big crowds for Southampton's first team."
Walcott says he was as shocked as anyone by his inclusion in Eriksson's 23-man squad.
"I woke up this morning (Tuesday) still shocked. You should have seen me yesterday though, I was so surprised and shocked.
"I would have thought maybe I would be on the standby list, but not in the squad.
"I've only been playing football for about six, seven years now, and didn't think I would come this far.
"Watching the 2002 World Cup, I didn't think I'd be here now."
Subscribe to World Soccer – The essential football magazine.