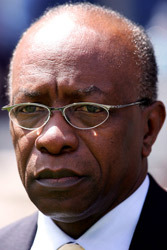 A member of FIFA's ethics committee said that Jack Warner, who resigned as a FIFA vice-president on Monday, is finished in football.
A report of the committee leaked on Wednesday said there was overwhelming evidence that Warner, who has resigned all football activities, was "an accessory to corruption".
There was anger after FIFA abandoned its bribery investigation into him and said the 68-year-old remains "presumed innocent" but Sondre Kaafjord said the outcome was the same as a ban.
Kaafjord, one of the five-man panel who suspended Warner and his fellow FIFA member, Mohamed bin Hammam, on bribery charges last month, said: "The result is the same as if he had been banned by us – he's out of football. If we had sentenced him or banned him the result would have been the same.
"If Warner were to take part in football again, the case will be reopened immediately."
Kaafjord said FIFA had no choice but to drop the investigation once Warner had quit – but confirmed the ethics committee report's conclusions and said the Trinidadian had agreed to be a witness in the ongoing case against Bin Hammam.
Kaafjord said: "We concluded on May 29 that there was enough reason to suspend him for 30 days. It means that there was a probability that he was guilty.
"But in judicial language until you are actually found guilty you are presumed to be innocent. That is a basic principle of law.
"We are not entitled to go further with the investigation according to Swiss law – if he is not a member of the association any more we have no right to go further.
"But the investigation will continue because Mr Bin Hammam is part of the same case and Mr Warner has said he will be a witness in the Bin Hammam case."
The ethics committee report said there is compelling evidence that Bin Hammam paid money to delegates of the Caribbean Football Union in his bid to become FIFA president, and that Warner facilitated these payments.
Kaafjord said: "The question is about what happened in Trinidad on 10 and 11 May, what was going on there. They were accused of giving envelopes with dollars to participants."
He confirmed that any officials who received the cash gifts – of $40,000 (£24,500) per association – could also face disciplinary action.