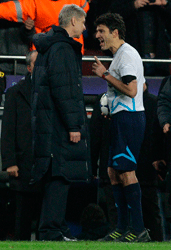 Barcelona are now a best price 2/1 for the Champions League after advancing past Arsenal last night…
UEFA has charged Arsenal manager Arsene Wenger and midfielder Samir Nasri following comments made towards the referee in the defeat by Barcelona.
Arsenal's Champions League hopes were ended after Barcelona won 3-1 at Camp Nou to record a 4-3 aggregate victory.
However, Arsenal were infuriated by the second-half dismissal of Robin van Persie after the striker was penalised for time-wasting.
Swiss official Massimo Busacca showed Van Persie a second yellow card for shooting at goal after he had blown the whistle for an offside decision.
At the final whistle, Wenger confronted Busacca and continued his exchange with the referee down the tunnel.
Speaking after the match, Wenger described the decision to dismiss Van Persie as "embarrassing".
"If you play football at a certain level you cannot understand this decision," the Arsenal boss said. "It killed a promising, fantastic match. If it's a bad tackle, OK, but frankly it is embarrassing."
Wenger also suggested UEFA's representatives at the game were 'shocked' by the red card, which came just minutes after Arsenal had equalised on the night and had taken a 3-2 lead on aggregate.
"It's not a surprise the referee didn't book a single Barcelona player," he said. "I just spoke to [the] UEFA people. They are shocked as well. He killed a promising, fantastic football match. What for? If you have played football at a certain level you cannot understand that decision. It's impossible."
Asked how Busacca had reacted when Wenger approached him to offer his views the Frenchman said: "He was receptive, not necessarily of my view [when he spoke to Busacca afterwards], because he must think that he made the right decision."
UEFA had been waiting for Busacca's report on the match before deciding whether Wenger would face any action over the incident.
A charge of improper conduct has now been levelled at Wenger and France international Nasri regarding comments made to Busacca after the match.
Barcelona are now a best price 2/1 for the Champions League after advancing past Arsenal last night…
Take advantage of the sales by saving up to 36% on a subscription to World Soccer