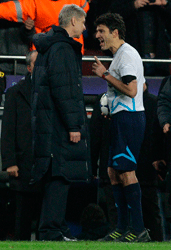 Man City travel to Chelsea in the Premiership game of the weekend – see the best odds on every market here…
Arsenal manager Arsene Wenger and midfielder Samir Nasri have both been handed one-match suspensions by UEFA for improper conduct.
The punishments stem from remarks made to the referee by the duo following the Gunners' last-16 Champions League knock out to Barcelona at Camp Nou last month.
Wenger, who will serve a touchline ban, has also been fined €10,000 by the Uefa Control and Disciplinary Body.
The suspensions will apply to the next UEFA club game for which either man is eligible, while Arsenal have been given three days to appeal the decision.
Uefa said in a statement: "Arsenal manager Arsene Wenger and midfield player Samir Nasri have both been suspended for one UEFA club competition match following charges of improper conduct.
"The Arsenal manager has also been fined 10,000 euros.
"An appeal may be lodged against the ruling within three days of the dispatch of the reasoned decision."
Wenger, speaking this afternoon before UEFA's announcement, insisted he had done nothing wrong.
The Arsenal manager said: "If I am punished it will be one of the very few times that I feel I don't deserve it, because I don't feel I did anything wrong.
"I have no chance to speak my mind and I will have to accept it, but frankly I don't feel wrong and you don't feel at ease if you know you have done something wrong.
"This time I am quite relaxed, I don't even listen to what they have to say because I know what I've done and what I have said. I don't feel in this story I will have to be the one to be punished."
Man City travel to Chelsea in the Premiership game of the weekend – see the best odds on every market here…
Take advantage of the sales by saving up to 36% on a subscription to World Soccer