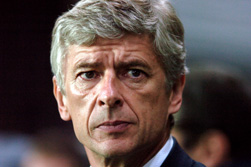 Arsenal boss Arsene Wenger and his Villarreal counterpart, Manuel Pellegrini, exuded confidence ahead of Tuesday's Champions League semi-final second leg.
The Spanish side are 1-0 down but Pellegrini was convinced that his team could overturn the narrow deficit.
"We have passed some important milestones this season but we have never been content with what we have achieved," said Pellegrini.
"We are now here to take the last step and reach the Champions League final. The pressure is all on Arsenal.
"Our only pressure is from ourselves and our desire to reach the final."
Wenger insists his team will look to win tonight.
"We must play to win the game," said Wenger. "I don't think they will score three. Let's try to score and that will be a big blow to them.
"You cannot go into a game 1-0 up thinking you can just rely on that."
"We have shown character against Juventus and Real Madrid and we need it again," added the Frenchman.
"It will be a more intimidating atmosphere because it is a small stadium and therefore I feel the heat will be higher.
"They will play the same way but will be less timid and Riquelme will be more influential. He shows more personality, character and decisiveness at home."
"I feel quite relaxed, contrary to the impression I gave, because I trust my team completely," said Wenger.
Wenger is without central defender Philippe Senderos for the game and will bring in Sol Campbell as his replacement.
"There's no better opportunity for him to come back and show his strengths than in a semi-final where you know you will have to defend well," said Wenger.
"I trust his quality and his strengths. The players trust him as well.
Subscribe to World Soccer – The essential football magazine.