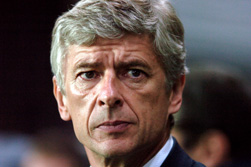 Arsene Wenger remains confident Arsenal will reach the Champions League knockout phase despite having two men sent off in the 1-1 draw with PSV Eindhoven.
Lauren and Patrick Vieira were both dismissed and will miss the final group game against Rosenborg at Highbury – a match Arseal will almost certainly need to win if they are to reach the knock out stages.
"It's a big blow to lose these two, but we will compete well and I think we will win this game," said Wenger.
"We defended well, and you are happy with a point when you have nine men."
Wenger denied the dimissals highlighted a disciplinary problem within the club.
"I don't think that there is a disciplinary problem," Wenger said.
"We just fought hard and were punished for the fouls we made.
"We have to accept the referee's decisions. Lauren was a little bit late with his tackle, while I believe that Vieira played the ball."
"Patrick is a captain and behaves like one," said Wenger. "That is why he went for the ball before he got his second booking."
But he added: "It was remarkable that (PSV captain Mark) van Bommel made a lot of deliberate fouls without receiving a booking."
Wenger also revealed goalscorer Thierry Henry is doubtful for the game at Liverpool on Sunday after aggravating an Achilles tendon injury.
"Thierry cannot walk walk very well at the moment and we will have to wait until Friday or Saturday to know who will play at Liverpool," he added.
Arsenal are also likely to be without Robin van Persie, who was carried off, shortly after coming on as a substitute.
"With Van Persie we don't know yet if it is a kick or a twist," added the Arsenal boss. "My feeling is that it was a kick, so I'm quite optimistic but we will not know for 24 hours."
Despite finishing the match with 9 players, Wenger believed Arsenal were the better team on the night.
"But I felt we were the better team and created the better chances. I am very confident we can still win the group and that's what we want to achieve."