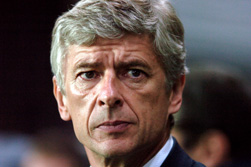 Arsenal boss Arsene Wenger has been asked to explain his comments about Manchester United striker Ruud Van Nistelrooy and referee Mike Riley, following Arsenal's 2-0 defeat to Manchester United on Sunday.
"We know how he behaves," the Frenchman said of Van Nistelrooy in a TV interview, "and he can only cheat people."
The Arsenal manager appeared to question the performance of the referee, Mike Riley, who has awarded eight penalties to United in his last eight visits to Old Trafford.
"We got the usual penalty when we come to Manchester United and they are in difficulty," Wenger had said.
If he is found guilty of bringing the game into disrepute, he would face a heavy fine rather than a touchline ban.
The FA are also investigating an alleged incident in the tunnel following the game.
According to reports, an Arsenal player is believed to have thrown food at United boss Sir Alex Ferguson in the aftermath of Sunday's game.
One suggestion is that the problems were sparked when Wenger confronted the Dutch striker after the match. Van Nistelrooy reportedly responded, at which point players from both teams joined in the argument.