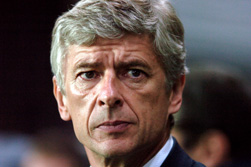 Arsenal manager Arsene Wenger has defended his selection policy after fielding an entire squad without one English player in the 5-1 win against Crystal Palace.
Wenger fielded the first foreign 16-man squad in English football history because illness and injury deprived him of Ashley Cole and Sol Campbell.
Wenger said: "I didn't know about that until I was told about it.
"I don't look at the passport of people, I look at their quality and their attitude."
"England boss Sven-Goran Eriksson was here, so who did he watch then? Has he signed for a different country?"
In reality, Wenger had littlle option but to field an entirely foreign selection. As well as Cole and Campbell, he was deprived of the services of Justin Hoyte who is injured and Jermaine Pennant who is on loan at Birmingham.
Their 16-man squad against Palace featured six Frenchmen, three Spaniards, two Dutchmen, one Cameroon international, one German, one Ivory Coast international, one Brazilian and one Swiss national.
Chelsea became the first English team to field a non-English starting eleven, when they played Southampton on Boxing Day in 1999. However, on that occasion, there were still four English players on the bench – Jody Morris, Jon Harley, John Terry and Mark Nicholls.