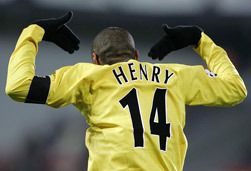 Arsenal manager Arsene Wenger has expressed his delight at striker Thierry Henry's decision to stay with the club.
Henry has been the subject of much speclation in recent months following his refusal to enter new contract negotiations.
Several of Europe's leading clubs were reported to be interested in signing the Frenchman, with Barcelona confirming they had earmarked the striker as their principal summer transfer target.
However, Henry declared over the weekend that he would be happy to stay with Arsenal for the remainder of his career.
"It's a big boost for the club because you want your big players to stay," Wenger said.
"It's great news for the fans, for the club and for us inside the club. It's a relief and a great answer to people who questioned his commitment.
"I had a doubt. I was not always sure that he would decide to stay but I had no doubt about his commitment."
Henry, 28, was free to leave the club in the summer of 2007, but he has decided to commit his futre to Arsenal.
"The truth is I love this club and I've made my mind up to stay," he told The Sun newspaper.
"I can say to all my fans and the people who care about me I want to lead the team out in the new stadium.
"I'll talk to (manager) Arsene Wenger, to (vice-chairman) David Dein and the board and talk of the future," he added.
"My mind is to stay and we have to sort this out."
Henry joined Arsenal from Juventus in August 1999 and earlier this season broke Ian Wright's club goalscoring record of 185.
"There was a lot of ridiculous speculation," Henry said. "But the truth is this, I never spoke with or met with a single person from any other club at any time.
"This will put an end to all the stories. We can move on."
"I'm still only 28.
"But when I see the fans and the way they talk to me, it helped make my decision."
"They didn't boo me or make life difficult for me on the pitch."
Subscribe to World Soccer – The essential football magazine