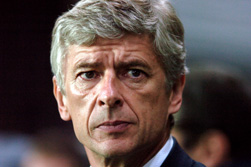 Arsenal manager Arsene Wenger has played down reports linking him with a move to Real Madrid after Real Madrid president Florentino Perez admittted he was a fan of the Frenchman.
Wenger says he is going nowhere until his contract expires 2008.
Speculation over Madrid coach Wanderley Luxemburgo's future at the Bernabeu has grown since the 3-0 defeat to Barcelona.
"Jose Mourinho and Fabio Capello are two of the world's best. I have another name for you, Wenger. I like him very much," Perez told a radio interview.
"All of these men are good coaches, who have spoken well of Madrid and have demonstrated their quality, I cannot say one is better than the other," added Perez
However, Wenger, who has been in charge at Highbury since 1996, says he will honour his contract with the Premiership club.
That's very nice," Wenger said, "but until 2008 I have glue on my seat here. You never know, but my desire is to stay here."
Meanwhile, Arsenal striker Thierry Henry has also been linked with a move to Spain.
Arsenal's record goal-scorer is out of contract in 2007 and has refused to enter talks about a new deal until the new year, but Wenger is keen for him to stay.
"For me, Thierry Henry is the best striker in the world so we would prefer to keep him here," stated Wenger.
Wenger was responding to remarks made by David Beckham, who admitted he would love to line up alongside Henry at the Bernabeu.
Subscribe to World Soccer – The essential football magazine