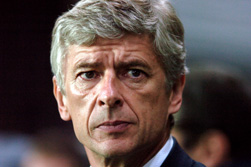 Sunderland are still not safe from the drop, so will need to get something from their trip to Pompey on Monday.
Arsène Wenger's commitment to Arsenal appeared in doubt as he admitted that the prospect of working under Florentino Perez in Spain would be "interesting".
Reports in France have suggested that Perez, the former Real president who announced his candidacy to stand for the position again last week, met Wenger in Paris last week and has since revealed he would seek to lure the Frenchman to the Bernabeu.
Wenger was first contacted by Pérez over a potential move four years ago and has frequently been linked with a move to the Spanish capital. However, he has always dismissed any interest by reaffirming his loyalty to Arsenal.
But, when asked his opinion on Pérez's plans for Real during an interview on the French television programme Telefoot, the 59-year-old was more evasive.
"With Florentino Pérez in charge, the project he has put forward would be interesting for any coach but I would prefer not to comment on this," he said. When asked whether he intended to honour his contract at Arsenal, which runs until 2011, he added: "In general I usually stay until the end of my contract."
There have been recent signs of Wenger's growing frustration with the impatience of certain sections of the Arsenal support as Arsenal conclude a fourth successive season with silverware.
"You sit here, you are in the last four in Europe, and every day you feel you have killed someone," he said. "It is unbelievable. If you do not take a distance with it, you think: 'What kind of world do we live in?' We lose against Man United who have 10 times more resources, it's not a shame. They are the best in the world. Congratulations to them. If you play tennis tomorrow and you lose against Nadal, you can still say you are a good player."
While it still seems unthinkable that Wenger might swap the culture he has developed at Arsenal, where the onus is on youth, for the galactico culture of Perez and Real, his comments may be intended as warning to the club's board that significant funds will be required if Arsenal are to compete with the likes of Manchester United.
Sunderland are still not safe from the drop, so will need to get something from their trip to Pompey on Monday.
For more fascinating features, subscribe and save 30% and use the below link?