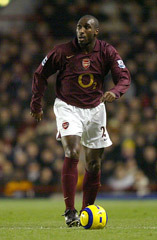 Arsenal manager Arsene Wenger will have talks with defender Sol Campbell on Tuesday.
England defender Campbell returned to Arsenal's training ground on Monday after missing four days following his abrupte departure at half time during last week's defeat to West Ham.
Wenger said: "We will help Sol to bounce back quickly and to focus and concentrate on the game of football, which is the best cure.
"I'm happy he is back. It was the players' day off. I know Sol was in and I will see him on Tuesday and we will talk then."
Campbell was deemed responsible for both of West Ham's goals in a miserable 45 minutes at Highbury. He was substituted at half-time and left Highbury immediately.
Wenger attributed Campbell's departure down to "exceptional circumstances" and admitted the player was going through a "difficult period" in his life.
Campbell missed the weekend clash with Birmingham City and there were worries about the 31-year-old's future, but he returned to training on Monday.
Subscribe to World Soccer – The essential football magazine