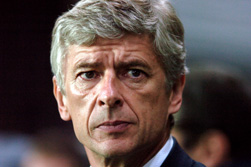 Test your Champions League knowledge and Win Free Bets! Click here for more info!
Arsene Wenger has told his players not to get over-confident as they prepare to face Slavia Prague.
Wenger's side have won their opening two Champions League matches and another three points at the Emirates Stadium would leave them well placed to reach the knockout stages.
"If we win tomorrow 90 percent of the work is done. It is a good mental test because we will see how we cope when we are favourites," Wenger said.
"Sometimes the games that look easy at the start turn out to be the hardest. That is what we learned from last season.
"It is a tricky tie because you could think because we have beaten Sparta Prague we will beat Slavia Prague. We are the favourites but Champions League competition doesn't work like that.
"We had problems to beat Steaua Bucharest. We had to dig very deep and they have beaten Steaua and scored two goals at Sevilla. If we are not focused we will have big problems with them."
Wenger believes Theo Walcott has developed into the kind of player who can have a crucial impact upon matches.
"I feel he has qualities that are very important for a striker," Wenger said. "The timing of his movement is good, the quality of his movement is good.
"So overall I feel he has made good progress recently, even if at the start of the season he had to be a bit patient because it took him sometime to get back to his level. He has made more progress and moved forward.
"At his age you can only improve if you work in a dedicated way. He applies himself very well in training.
"Between 19 and 23 a striker moves forward. Look at how Robin van Persie arrived here and how he is today."
Test your Champions League knowledge and Win Free Bets! Click here for more info!