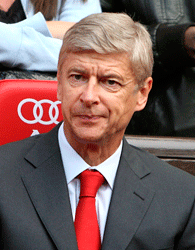 West Ham, who are now 3 points adrift at the foot of the table, are now 1/2 for the drop.
Arsenal manager Arsene Wenger has cited the Old Trafford pitch as one of the reasons why his side underperformed in their 1-0 defeat by Manchester United.
"The intensity was high but it was a very bad pitch," said the Frenchman.
"The technical quality suffered as a result and that's why you saw mistakes from both sides."
Ji-Sung Park scored the only goal of the game which ensured United climbed above the Gunners at the top of the Premier League table.
Manchester United's next league fixture is at Chelsea where they will have the opportunity to put a six-point gap between themselves and the Blues.
"Sunday is a massive game," said Ferguson. "That will go a long way to establishing what happens at the top of the league.
"We are 16 games undefeated. Now we have to make it 17."
Wenger, meanwhile, was unhappy with the playing surface in Manchester but he praised the opposition defence for the way in which they subdued Arsenal's attack.
"If I ask you do you want a good pitch or a bad one, what do you say?" he added.
"They made technical mistakes as well because the pitch is not good enough to play good football. It is bouncy and slippery.
"Overall, you have to give credit to United's defensive quality.
"We tried everything to create chances. I thought we were unlucky to lose the game, but we have to take encouragement from tonight's performance."
Wenger, whose team have not beaten title challengers United or Chelsea in 11 encounters said he was not worried by his side's form against their rivals.
"Calm down," he insisted.
"You have to be realistic and objective and not necessarily reach big conclusions. I am here to analyse one game.
"It is a big frustration and disappointment but I don't know how big a blow it is to our title chances," he stated.
"What is important is that we bounce back in our next game [at home to Stoke on Saturday].
"Overall, on what I have seen there is no reason not to believe.
"We know we can play better offensively and actually, we looked quite solid."
West Ham, who are now 3 points adrift at the foot of the table, are now 1/2 for the drop.
A subscription makes the Christmas perfect gift. Give a lasting gift this year and save up to 33% when you subscribe.