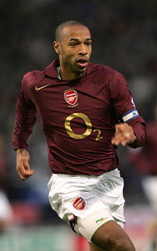 Arsenal manager Arsene Wenger has told Thierry Henry to end any doubt surrounding his future by signing a new deal.
The French striker said recently that he planned to extend his current contract, which runs until the summer of 2007.
However, despite giving this assurance, Henry remains a target for Barcelona, with the Spanish champions expected to launch a bid for the striker in the summer.
Wenger remains confident that Henry will remain at Arsenal, but is aware that the longer he dithers over a new deal, the greater the speculation about his future.
"I think he knows the best way is to sign first and qualify after," declared Wenger.
"I think that's the only way you can do it because you need to be committed to qualify.
"He spoke to me before he wrote the article in which he said he wanted to stay.
"He did not promise me face-to-face that he would sign but he told me he wants to stay. For me, that is basically the same.
"If I say to you I stay, then I stay. I don't need to reiterate it every week.
"There are people in football who say one thing one week and another the next. But I don't think Thierry is that kind of person.
"I talk to Thierry about the team, about how we want to play – but not about his contract. For me, that's an old story.
"He's made up his mind and said he wants to stay. Why shouldn't I be 100 percent confident that he will?"
Subscribe to World Soccer – The essential football magazine