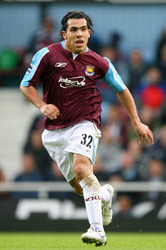 Help us with a Sport and Betting Survey! Click here to take part now.
West Ham have been fined £5.5m after being found guilty over the transfers of Carlos Tevez and Javier Mascherano.
But the Hammers, who are battling against the drop, have avoided a points deduction that would have almost certainly confirmed their relegation to the Championship.
The east London club were found guilty of acting improperly and withholding vital documentation in the deals.
The hearing report also said that the Premier League could terminate Tevez's registration, and if West Ham will have to re-sign him if they want him to play any more matches this season.
The transfers were negotiated by former chairman Terence Brown and managing director Paul Aldridge, both of whom have left since the takeover by current chairman Eggert Magnusson.
West Ham are three points from safety heading into a vital game with fellow strugglers Wigan at the JJB Stadium on Saturday.
Wigan chairman Dave Whelan led calls for West Ham to be investigated, prompting Hammer's boss Alan Curbishley to respond: "Wigan have voiced their opinion, and if the boot was on the other foot I'm sure we would have done the same."
A West Ham statement read: "West Ham received a fair hearing. The club's submission that the contracts gave no actual influence to any third party was accepted by the commission.
"The club regrets the fact that they fell foul of the FA Premier League regulations, but the new owners of the club now want to focus on matters on the pitch and remaining in the Premier League. The threat of a points deduction has now been removed and the club's fate remains in its own hands.
"The club believes that promotion and relegation issues should be decided on the pitch and we are pleased that the commission agree with that view.
"The club will reflect on the financial penalty that has been imposed and will take advice before commenting on the possibility of an appeal or any further steps that might be taken."
Help us with a Sport and Betting Survey! Click here to take part now.