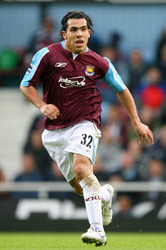 Help us with a Sport and Betting Survey! Click here to take part now.
Wigan chairman Dave Whelan has requested that the Premier League provide proof about the exact nature of Carlos Tevez's contract with West Ham.
The Hammers were fined £5.5m last month following a hearing into the transfers of Tevez and Javier Mascherano, after breaking Premier League rules on the ownership of players.
However, the decision not to deduct any points from West Ham has angered many of their relegation rivals, with fresh controversy caused by the Premier League allowing Tevez to continue playing.
The Premier League are happy Tevez's registration now conforms to league regulations after receiving assurances from West Ham that they have terminated their third-party agreement with his agent Kia Joorabchian.
Whelan has questioned Tevez's contractual status in a letter to Premier League chief executive Richard Scudamore.
In the letter, obtained by The Times, Whelan wrote that on 1st May: "You clearly stated that the West Ham chief executive looked you square in the eye and told you blatant lies regarding the contracts of the Argentinean players.
"Are you being told lies again?
"In your e-mail of May 8 sent to all Premier League clubs, you state that assurances were received in a satisfactory form from West Ham.
"Surely the contract can only be terminated by both parties?
"Could we and the rest of the Premier League please see concrete evidence, ie, written confirmation that this contract had been cancelled by both parties and furthermore, was this termination actually completed before Saturday, April 28, the day West Ham played Tevez at the JJB Stadium?"
Help us with a Sport and Betting Survey! Click here to take part now.