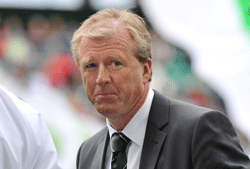 Chris Hughton is the bookies favourite to replace Roberto Di Matteo as West Brom manager…
Pierre Littbarski is expected to be given until the end of the season to show he is a candidate for the Wolfsburg job on a full-time basis following the sacking of Steve McClaren.
McClaren was fired following last weekend's 1-0 defeat at Hannover, a result which left the 2009 Bundesliga champions just one point above the relegation zone.
Littbarski, who was appointed in the summer and had been working as the Englishman's interpreter, as well as his assistant, has been put in charge on a temporary basis.
Wolfsburg's managing director Dieter Hoeness has given Littbarski his backing to lead the club to safety.
"We hope to have the same result as last year with Lorenz-Gunther Kostner and our aim is to move away from the relegation zone," Hoeness said. "There is still a lot of work necessary and I hope that Pierre Littbarski works successfully."
Hoeness informed McClaren that his tenure had come to an end by telephone on Monday afternoon.
"After Saturday's game, we held lots of talks and considered everything and then we decided that we would go separate ways and I called him to inform him," Hoeness told Sport1 television.
"It was not easy for me. Usually I prefer to do things like this in person, but there was no other way round it this time."
According to reports, Hoeness could not deliver the news in person because McClaren was already flying back to England, aware of his fate.
And Hoeness added that it had been a mistake making McClaren the first English coach in the Bundesliga in the first place, saying: "I have to take responsibility for that, it was the wrong decision."
Chris Hughton is the bookies favourite to replace Roberto Di Matteo as West Brom manager…
Take advantage of the sales by saving up to 36% on a subscription to World Soccer