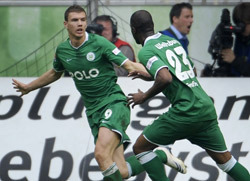 Felix Magath, the coach who has turned the former provincial makeweights of Wolfsburg into contenders for the Bundesliga title this season, must relate to the proverb "Revenge is a dish best served cold".
Ordered to vacate his Bayern Munich office in January 2007 despite a more than respectable record (back-to-back domestic Doubles in 2005 and 2006), Magath would have to wait two years and three months for the last laugh, his present side humbling his old one 5-1 in a top of the table clash with more than a hint of the changing of the guard about it.
Post-match, Magath denied it was a victory to salve old wounds. Much more important, he claimed, was Wolfsburg first-place in the standings and their eight wins in a row which had taken them to the summit. Don't you believe it. The archetypal professional but an immensely proud character with it, Magath had a point to prove to Bayern, a personal mission borne out by the broad smile he substituted for his usual stony-face at the final whistle.
Bayern certainly felt their former employee was more than happy to twist the knife. In the eyes of the Bavarians, Magath's unorthodox decision on 89 minutes to take off uninjured first-choice keeper Diego Benaglio and bring on his back-up Andre Lenz smacked of a calculated insult. The Wolfsburg boss countered that he only wanted to repay Lenz's loyalty and give him a win bonus. Not the most convincing of arguments, though. Sentiment and inclusivity do not normally go hand-in-hand with this hardest of hard taskmasters. Two weeks earlier when 3-0 up at Bielefeld he could have made a similar sort of substitution; tellingly he did not. "This was not a friendly or testimonial," roared Bayern skipper Mark Van Bommel. "For me this switch showed a lack of respect for us. It was an insult."
While Bayern had some justification pointing out the office politics at play in Magath's symbolic pot-shot, one matter they could not dispute, however, was the result. Honours may have been even in a cagey, tactically-driven first-half (1-1). But after the restart there was only one team on the pitch – the green-shirted hosts assembled at no little expense by the club's backers at Volkswagen. Ironic that in a period of plummeting car sales, their works club is in a position to etch its name on the Bundesliga shield for the first time.
On the sidelines, Bayern coach Jurgen Klinsmann cut a bemused, helpless figure, looking up at the heavens with a "Give me some help, here" expression. "Wolfsburg were everything Bayern were not: solid at the back, everyone on the same organisational wavelength, full of running – a trademark of any Magath team – purposeful, incisive in the attacking-third and above all, hungry.
Like so many German club defences this term, Bayern simply had no answer to the Wolfsburg 'Golden Triangle' made up of Bosnian playmaker Zvjezdan Misimovic in cahoots with the Brazilian-Bosnian front-line duo of Grafite and Edin Dzeko. Easily the best passer on the Bundesliga circuit right now, Misimovic conjured up two more assists to take his tally for the season to an incredibly healthy 16, while the strikers continued on their merrry goalscoring ways with a double apiece. Neither can stop scoring. Grafite tops the Bundesliga finishing charts with 20; Dzeko is only a few units adrift.
The pair compliment each other perfectly. The long, tall yet skilful Dzeko and Grafite, the rampaging buffalo with ball control. Spiritually they are far apart. Dzeko, a Muslim, reads from the Koran prior to every game; Grafite is of the Christian faith and utters a psalm on match days. Yet how well they function together, forming a TNT ensemble to rival the best in Europe.
Grafite, a 29-year-old late-developer bought from French side Le Mans in 2007, is sure to remember this game for the rest of his life. Never, ever will he score a better goal than his second and Wolfsburg's fifth, soft-shoe shuffling through the entire Bayern rearguard before back-heeling the ball home past defenders apparently in suspended animation. Goal of the century material, matched only by a virtuoso effort from Karlsruhe's Jay-Jay Okocha back in 1993 against Eintracht Frankfurt.
This would not be a Magath team without its core of unsung heroes, ultra-reliable players prepared to toil endlessly for the cause. Wing-backs Christian Gentner and Sascha Riether both have a voracious appetite for hard work, left-back Marcel Schafer has performed so well that he is now in the German squad, while no one in the Bundesliga does a better job in defensive midfield than the Brazilian Josue, who offers tackling grit and vision in equal high quantities.
In the disciplined world of Felix Magath, the mantra is always a simple one – deliver or spectate. Cristian Zaccardo, a new arrival from Palermo last summer, learnt it the hard way. He had full international caps for Italy and cost a cool £7 million. But when he failed to adapt swiftly to the Bundesliga, he was out.
Magath's insistence that his side remain title outsiders behind Bayern and Hamburg is pure mind games. With their consistency, desire and fair share of genuine matchwinners, Wolfsburg are equipped as anyone to last the pace.
Jurgen Klinsmann may not like it. The rest of the country surely will.