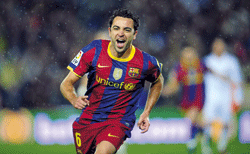 Get the best betting odds on tonight's Champions League games in our dedicated centre here…
Xavi admits he was unimpressed Arsenal in their 3-1 defeat to Barcelona on Tuesday night, saying they showed a lack of intent.
Arsenal failed to produce a single shot at Camp Nou as they were eliminated 4-3 on aggregate, the first time a team has failed to do so since Opta's Champions League records began in 2003.
While their goal came from a Sergio Busquets own goal, Lionel Messi was on target twice and Xavi himself added a third to see the home side through to the quarter-finals of the Champions League.
Arsenal manager Arsene Wenger was furious at a second yellow card shown to Robin van Persie when he was adjudged to have kicked the ball away after referee Massimo Busacca whistled for offside, but Xavi felt the decision to dismiss the Dutchman was the correct one.
"This is a fair result," Xavi told the Barcelona official website. "We were the superior team both in the away game and at home. There's justice in football. They had clearly come here to defend. They didn't even have one single shot on goal. I expected a lot more from them to be honest.
"[Javier] Mascherano and [Sergio] Busquets are simply amazing for the team, while Leo [Messi] once again stepped up to make the difference. The only thing that could have been better was our finishing. We should have scored more and we suffered too much. We could have killed the game a lot sooner.
"Arsenal really didn't want to play football. All they cared about was defending. The red card did affect the game, but the decision was right in my opinion."
Get the best betting odds on tonight's Champions League games in our dedicated centre here…
Take advantage of the sales by saving up to 36% on a subscription to World Soccer