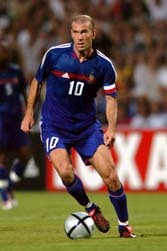 Zinedine Zidane said it was important that France did not allow their game to be restricted by the Republic of Ireland in their crucial 2006 World Cup qualifier on Wednesday.
The 33-year-old Real Madrid playmaker who returned to the international fold last month, admitted that the size of Lansdowne Road compared to the Stade France could restrict France's natural game.
"We must not let ourselves get driven off course, no matter what happens we must stick to our natural game," said Zidane.
"We may not have the freedom to play as we like because it is not a very big stadium.
"But we must not allow ourselves to feel like we are being suffocated.
"We have watched some matches which the Irish have won and some that they have found difficult.
"We know a little of what we should do and some things we should not do.
"It is now for us to put that into practice," added Zidane, who will be making his first appearance at Lansdowne Road.
Zidane said that defeat for either side would almost certainly cost them a place in Germany next year.
"We are well aware of the task ahead of us in what will be a very difficult match but which we all dream of playing," said Zidane.
"This match is as important for us, as it is for the Irish, because they must win if they are to stay on course for the finals as indeed we must as well.
"Above all neither side can afford to lose. For us this could be the boost we need."
Zidane also warned his team-mates against being drawn into a physical battle, especially against Ireland skipper Roy Keane.
"I don't think that Keane will display his nastier side," said Zidane.
"It will be a physical encounter but we must not respond in kind."