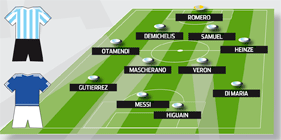 Diego Maradona prefers to adopt a 4-4-2 formation and claims that his tactics are a mixture of 1978 and 1986 World Cup-winning coaches Cesar Menotti (more attacking) and Carlos Bilardo (more defensive). However, the final outcome tends to be more of the latter. Maradona likes to build his teams from the back and often appears afraid of losing.
In the seven qualifying matches for which he was in charge – which became a desperate, all-important struggle for points – the coach used 36 players, often playing men away from their usual club positions, so it was sometimes hard to fathom what tactics they were actually trying to use.
Wrong tactics
In the surprise 6-1 defeat at altitude in Bolivia, Maradona used completely the wrong tactics and only in the 1-0 victory over Germany early in March – Argentina's one serious warm-up friendly this year – was there any semblance of tactics in defence and midfield.
But while there was plenty of co-ordination, precision passing and rapid surging forward in Munich, there remained little imagination in attack – and yet the starting line-up in that match will probably be the one for their opening World Cup encounter against Nigeria.
Key men are veteran midfielder Veron, the main playmaker who dictates play (since Juan Roman Riquelme resigned) and it is hoped he will last the pace, central defender Demichelis and, of course, Messi – if he is played in his club position. In the preferred 4-4-2 line-up Messi is repeatedly fouled before he can get into a scoring position.
Maradona will need to be more adventurous against group rivals who may play more defensively. Argentina will therefore need to go for a 3-4-3 line-up – with Messi selected alongside Higuain and Tevez in a three-man attack – something the coach has been reluctant to do so far.
Team – 4-4-2
Romero; Otamendi, Demichelis, Samuel, Heinze; Gutierrez, Veron, Mascherano, Di Maria; Messi, Higuain.