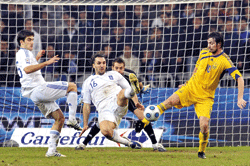 Otto Rehhagel's side fancy their chances but hope for a little help from Diego
In their only other appearance in the finals, in the USA in 1994, Greece left not only without winning a match, but also without having scored a single goal. However, things have certainly changed since then for the surprise Euro 2004 winners, and Otto Rehhagel's side will have far greater hopes this time round.
After finishing second to Switzerland in their qualifying group, Greece beat Ukraine in the play-offs with a Dimitris Salpigidis goal when everyone thought they would be eliminated, so Rehhagel's up-and-down team are a group opponent that Argentina, South Korea and Nigeria should not underestimate.
There is no big star in the Greek squad – there never was, even at Euro 2004 – but the defence-minded side are well disciplined by their stubborn 71-year-old German coach and include four veterans from that Euro triumph, along with a few up-and-coming standouts.
This mix has enabled Rehhagel to feel confident that, if his team can avoid injuries, and the players perform up to their potential, he can take Greece into the knockout phase.­ If the defence continue to be solid and the attack – which boast Fanis Gekas, who was Europe's top scorer in qualifying with 10 goals – begins to spark, then Greece do have a chance.
Outside chance
The Greeks know that South Korea and Nigeria are within their capabilities, while even Argentina offer an outside chance – especially since this will be the last match in the group stage and by then Diego Maradona's squad may have already qualified and will be relaxed.
"Our major goal was to qualify for the World Cup and we achieved this. We are not among the favourites so there's no stress," says defender Giourkas Seitaridis, who was a member of the Euro 2004-winning squad.
"It will be a tremendous success for us to make it to the next round but we will go to the World Cup and give our best. We are a closely knit team who rarely give up goals and rarely lose. We don't just defend from the back but through the entire team. This is our strong point. Critics say there is no joy in the way we play, that we know nothing but defence. What we are concerned about is getting points.
"Winning Euro 2004 bothered a lot of people. No one expected such a small country like Greece to win. I believe that if a team was told, 'play defensive soccer and you will win the World Cup', everyone would heed that advice. All the comments cannot be positive."
So, as the Greeks say, who cares how you win as long as you come out the winner. That's what they did in 2004, and that's what they hope to achieve in South Africa.
The view from Greece
"We are happy to be taking part in the World Cup. We want to enjoy our participation and to represent the best that Greek soccer has to offer. We will be counting on the help of Greek expatriates to support the team in South Africa. It is an honour for our country to be among the best 32 teams in the world. We will try to show that we were fairly chosen and to give happiness to our fans. As a federation we will do everything possible to have excellent organisation and to present Greek soccer at its best. I have confidence in the coach and players that they will do what is necessary."
Sofoklis Pilavios, president of the Greek FA
"It doesn't matter which team you play first. The group is neither difficult nor easy. Of course Argentina are the favourites but we must see if they perform like they did in qualifying or whether this top players give their best. The first match is obviously important – if you have a positive result it can change things. Korea are one of the major teams of Asian soccer and Nigeria one of the strongest in Africa, but I'm sure that nothing will be decided before the last round of matches."
Nikos Nioplias, coach of this season's Greek champions Panathinaikos