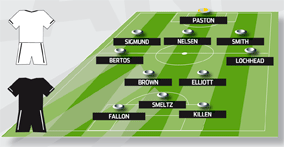 The recruitment of Danish under 21 international Winston Reid has increased Ricki Herbert's options.
Although primarily a central defender, Reid is capable of filling the All Whites' problem right back position and thus enabling Herbert to revert to his old 4 – 4 – 2 system should he wish.
The lack of a credible right back led to two wing backs, Tony Lochhead and Leo Bertos, being fielded in the play off with Bahrain. For the away leg, they were required to play defensive roles in a 5 – 2 – 3 format, but at home moved upfield to create what was effectively 3 – 4 – 3. Three centre backs were utilised throughout, with captain Ryan Nelsen called upon the act as sweeper when necessary.
Rory Fallon, Chris Killen and Shane Smeltz started both games as strikers, with Chris Wood coming on as a second half replacement to provide youthful vigour (something we should also see in June). Smeltz operated slightly behind Killen and Fallon but looked uncomfortable in the role.
In March's friendly opposing Mexico Bertos played as a deep lying winger, moving up to support two conventional strikers, with debutant Chad Coombes inheriting his wing back post. Coombes' crossing must improve significantly if he is to get significant World Cup game time.
Anyone's guess
Nelsen is the only sure starter in defence. Reid, Ben Sigmund, Tommy Smith and Ivan Vicelich will feature too, but just who will be there at kick off and who will occupy the bench is anybody's guess.
Also uncertain is the midfield permutation. Herbert favourite Tim Brown and the evergreen Simon Elliott will be picked if fit and Michael McGlinchey can be confident of a run, probably as a substitute. The Scot is a creative linkman, in contrast to the two workhorses, and his introduction can disrupt opposing midfields, as was the case in Bahrain.
Herbert has stated the Kiwis have to be flexible. His selection and tactics are governed by the opposition and his perception of how they can be best countered.
Be certain then that he will be spending a great deal of time scrutinising Italy, Slovakia and Paraguay during the coming weeks.
Team – 5-2-3
Paston; Sigmund, Nelsen, Smith, Bertos, Lochhead; Brown, Elliott; Smeltz, Fallon, Killen.