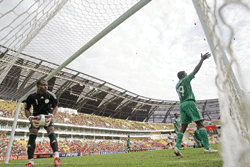 New coach will bring Swedish work ethic but Nigeria need flair and skill
Nigeria are the only one of Africa's six representatives at the finals who were handed a decent draw for the first stage of the tournament, yet they have kept up the propensity for shooting themselves in the foot by changing coaches months before it gets under way.
Again, as was the case before the 2002 finals in Japan, Shaibu Amodu has been dismissed for "only" finishing third at the African Nations Cup finals which preceded the World Cup by just six months.
His replacement, this time, is Lars Lagerback, chosen above Glenn Hoddle for the job but who will be surely flying by the seat of his pants once he finally gets to work with his new squad.
Appointed in February on a five-month contract, the reality is that Lagerback has effectively only three weeks to work with his squad. He has tried to watch and speak to as many of the key players as possible since being appointed, and has also watched the best of Nigeria's local players competing – and failing – in the African Nations Championship, the new international tournament for African-based players only.
But even with his best work ethic there is little belief that the Swede will be able to craft any miracles ahead of the finals, or indeed in it.
This is a Nigerian side bereft of the flair and skill of the last generation. Gone are the likes of Sunday Oliseh and Jay-Jay Okocha, and in their stead have emerged some decent strikers, wingers and stoic defensive midfielders, but no one with the ability to slot in as playmaker.
Little conviction
Lagerback does not have the option of making too many changes to the line-up that looked so limp at the Nations Cup in Angola. Even though they did get the bronze medal, somehow squeezing through to the semi-final, they left little conviction behind and that is the reason why the usually verbose Nigerians are a lot more tempered going into this tournament.
Nigeria still have deep resources given their large population but, judging by Lagerback's 44-man preliminary squad that was named in mid-April, this is not a generation that will inspire too much confidence.
The view from Nigeria
"We needed help and that's why we got a new coach. Lagerback was the favourite when the interviews were conducted earlier on and now it is his job to get the top players to do the job for the country. The Nigeria team are not under any pressure because they have already been written off as a surprise package in the tournament."
Jay-Jay Okocha, former captain
"A lot will depend on if Lagerback can get self-belief and mental strength into the team.
If he can do that, it is easy to see a path to even the semi-finals as the Super Eagles can get beyond the group stages, even with a loss to Argentina. And they can reasonably beat any of the teams from Group A in the round of 16."
Colin Udoh, Nigeria's leading football writer