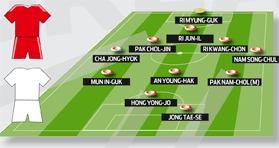 Consistency has been the key for North Korea coach Kim Jong-hun, who used just 21 players throughout the duration of the final phase of Asia's qualifying tournament for the 2010 World Cup finals.
Even within that relatively small number, Kim stuck to a core group of 15 or 16 players, trusting the same squad to deliver the country's first appearance at the World Cup finals since reaching the quarterfinals in England in 1966.
The squad has a balance of youth and experience plus several Japan-born players who bring their own attributes.
Kim's squad includes a number of players who were in the national team when the country failed to qualify for the World Cup in Germany – such as Hong Yong-jo and Ji Yun-nam – alongside the country's burgeoning youth products who represented North Korea at the 2005 Under 17 and 2007 Under 20 World Cups.
The one question mark that has hung over the team has been the tactical capabilities of Kim, who has tended to use a five-man defence throughout his tenure while also being prone to making early – and sometimes bewildering – substitutions.
Ri Myung-guk will start in goal and the defence is marshaled by sweeper Ri Jun-il while Japan-born midfielder An Yong-hak controls the midfield with the dynamic Mun In-guk in support.
Hong Yong-jo provides the attacking thrust behind powerful striker Jong Tae-se, who using his aerial ability to provide knockdowns or his strength to hold up the ball and allow the midfield to come into play.
Team – 5-3-1 1
Ri Myung-guk; Nam Song-chul, Ri Kwang-chon, Ri Jun-il, Pak Chol-jin, Cha Jong-hyok; Pak Nam-chol, An Yong-hak, Mun In-guk; Hong Yong-jo; Jong Tae-se.