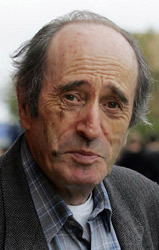 DIRTY MONEY?
The scandal of the attempted take over of Manchester City by the egregious ex premier of Thailand, Thaksin Shinawatra, has been compounded by the shameful passivity of the Premiership and the FA, but could yet be thwarted by the legal activities of the Thai authorities.
While the Premier League's Scudamore and the Football Associations Brian Barwick continue to give their imitation of the Three Wise Monkeys, the sports minister Richard Carborn having been equally mute before he so recently left office, it remained for the Labour MP Denis Taylor, to speak up strongly in the House of Commons, saying: "If he (Shinawatra) passes the test that he is a fit and proper person to own a football club, then the Premier League's rules must be too lax. He's a flaky foreign financier." And far worse than that, the previous head of a regime which tortured, murdered and repressed its subjects.
Facing a demand to return to face charges in Bangkok by July 26, Thaksin says he will return only in December after the coming elections – will he – and says he will begin legal proceedings over the accusations made against him by the Thais. But where would he initiate them and to what purpose? They would hardly be of any relevance in the High Court here, while if there is any merits in his insistence that the accusations have been trumped up by the Government put in power by the military group which deposed him, what hope would he have of clearing his name in Bangkok?
Manchester City's deplorable readiness to sell to him has been compounded by the inaction of FA and Premier League; an organisation which I nicknamed, on its dubious inception, The Greed Is Good League. In such circumstances it is hard to see our soccer authorities as anything but accessories after the fact.
A somewhat bewildering network of companies control Thaksin's money, though as we know no less than £11 billion of it is frozen by the authorities in Bangkok. Quite oblivious to all moral aspects of the proposed deal, Manchester City late last week were blithely demanding that their smaller shareholders should cash in their shares, so as to enable Thaksin to buy the club outright. We have a new sports minister now in somebody called Sutcliffe. He might make a good and relevant start by lifting his voice to deplore Thaksin's takeover. There is no sight yet of such a protest from Scudamore or Barwick.
***************
The Frank Lampard-Chelsea affair becomes more baffling day by day. Recently, we were given three different versions of what is going on.
In the first, both Lampard and John Terry, arguably two of the key players in the team and both actually English, have demanded parity with Andrei Shevchenko and Michael Ballack, who are, according to which account you believe, on somewhere between £121,000 and £130,000 a week. Fair enough, you might say, since, last season, Shevchenko was a sad disappointment and Ballack, to be kind, no more than sporadic. Neither gave remotely as much to the team as Lampard and Terry; both appear to have been imposed on Jose Mourinho by the billionaire Russian owner, Roman Abramovich.
Elsewhere, however, we read that Lampard is in any event prepared to see out the remaining two years of his contract, or that Chelsea have in fact met his demands. What does seem all too evident is that Abramovich, whose countless billions have so utterly distorted the Premier League, has by exercising his powers created a parlous situation. Did someone say money isn't everything?
***************
The recent death of the former West Germany manager, Jupp Derwall, reminds me of the splendours of his 1980 European Cup winning team and the squalors of his World Cup finalists in Spain, two years later.
Hard indeed to forget the glorious Euro game in Naples n 1980 when one saw the Germans defeat Holland in a dazzling encounter. That German team had the ebullient blond Bernd Schuster, now a candidate for the Real Madrid managership breaking through from midfield, abetted by the clever left footed playmaker, Hansi Allof. The giant Hans Hrubesch threatened with his head up front.
The Final when his goals beat a brave and unfancied Belgian team in Rome was something of an anticlimax. The Belgians scored their goal in a 2-1 defeat from a penalty which was morally justifiable but legally wrong since Uli Stieleke's foul had taken place just outside the penalty box. Two years later, a very different Germany. True they did reach the Final but by the time they got there they were universally detested.
They were not, it is true, helped by injuries to Muller and to another major young star, that elegant and versatile attacker Karl-Heinz Rummenigge, not to mention Uli Stielike. But having lost in intense heat to humble Alergia they proceeded to win 1-0 – Hrubesch's head again – in a kind of Anschluss against an Austrian team which had clearly agreed to let them have their way.
The worst thing of all happened, of course, in the semi final in Seville, when Toni Schumacher the keeper brutally and cruelly smashed his forearm into the face of the advancing French full back Patrick Battiston and could well have killed him; showing no remorse. An inept Dutch referee, Corver, didn't even book Schumacher while absurd dispositions prevented paramedics getting on to the field until it was almost too late. Before this match Hrubesch had declared that his needed an iron hand. What it got, alas, was an iron elbow.
***************