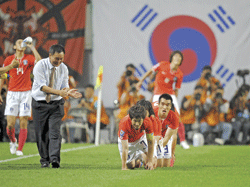 The Koreans must again try to bridge the huge gap in quality between the qualifiers and the finals
It's World Cup appearance number eight for South Korea – and the seventh in a row – as the 2002 semi-finalists aim once again to prove themselves capable of mixing it with the best while underlining their status as Asia's leading football nation.
There were few issues for Huh Jung-moo and his team as they notched up yet another successful qualifying campaign, seeing off prickly neighbours North Korea as well as Saudi Arabia and Iran to qualify for the finals in South Africa.
But, as has so often been the case in the past, the real test will come when the South Koreans come face-to-face with more experienced teams from beyond an Asian region they have long commanded.
The goal in Germany in 2006 was to reach the second round of the World Cup for the first time in a tournament played away from home soil and, though Dick Advocaat's side missed out on a place in the last 16, they did at least break one World Cup duck.
Victory over Togo was South Korea's first-ever win on foreign soil in the finals of the tournament and now, with that millstone removed from around their neck, the pressure of having to secure their first win has gone.
Up for grabs
Argentina will undoubtedly be favourites to win the group but the feeling in Korea is that second place is up for grabs.
Huh's squad is certainly capable of challenging for a place in the knockout phase of the competition thanks to the dynamism and work rate within the team. It is a trait that has earned captain Park Ji-sung admirers during his time at Manchester United and it is a characteristic that is prevalent throughout the squad.
There is experience at the back via goalkeeper Lee Woon-jae, who will be appearing at his fourth World Cup finals, while elsewhere in the squad there is a solid balance of youthful vigour and wily assertiveness.
The view from South Korea
"I don't see a standout among South Korea, Nigeria and Greece in Group B. Maybe the problem is all three countries consider one another beatable. The World Cup goals for South Korea have never gone beyond reaching the second round. The same applied to the 2006 edition, even after going as far as the semi-finals four years earlier. Aiming to reach the second round has always been the most plausible midway point between the ideal and reality. We would always love to dream for more for sure but, for that, passing the first round is the most important thing for us."
Kim Hyun-cheol, The Korea Times