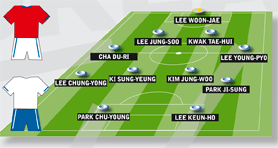 Following a prolonged Dutch influence on the South Korean team in the wake of Guus Hiddink's success at the 2002 World Cup, Huh Jung-moo became the first home grown coach to lead the team on a full-time basis since his own sacking to make way for Hiddink's arrival at the end of 2000.
But the former Chunnam Dragons coach has continued in a similar tactical vein to his European predecessors and he has reaped the benefits, taking the team on a lengthy unbeaten run that included qualification for a seventh straight World Cup for the Koreans.
Veteran goalkeeper Lee Woon-jae remains the first choice between the posts while several other members of the fabled squad tht reached the semifinals of the 2002 World Cup remain either as first choice or as squad members within Huh's set-up.
Lee Young-pyo and Cha Du-ri hold the two full back positions while Kwak Tae-hui and Japan-based Lee Jung-soo sit at the heart a defence protected by Ki Sung-yeung – who impressed during qualifying and has since moved to Celtic – and Kim Jung-woo.
Park Ji-sung and Lee Chung-yong provide the dynamism and width in midfield behind a forward line that will boast Monaco striker Park Chu-young and either the bustling Lee Keun-ho or the rejuvenated Lee Dong-gook.
Team – 4-4-2
Lee Woon-jae; Lee Young-pyo, Lee Jung-soo, Kwak Tae-hui, Cha Du-ri; Lee Chung-yong, Ki Sung-yeung, Kim Jung-woo, Park Ji-sung; Park Chu-young; Lee Keun-ho