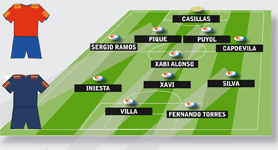 After Spain beat France at the Stade de France in March, Thierry Henry exclaimed: "It's lovely to watch Spain on the television, but when you play against them you simply can't get the ball off them." And that, in a nutshell, defines the Spanish approach. The key is possession, what is known in Spain as tiki-taka – a nonsensical phrase that roughly means 'touch, touch'. There will surely be no side in South Africa that completes as many passes as la selección, and they move the ball with pace as well as precision.
Amidst the eulogies surrounding Spain's ball retention and its creative qualities, two things have been overlooked: firstly, possession has been as valuable defensively as offensively – opposition teams simply cannot get the ball to test the theory that Spain's defence is vulnerable. And secondly, Spain are prepared to be direct when they need to be – Torres and Villa are both happy playing on the break, as they proved during Euro2008. If either are missing, Del Bosque's preferred solution has been to switch to a five-man midfield, giving Cesc Fabregas an advanced role.
Under Vicente del Bosque, Spain have also added another dimension to their game, for when things are not quite paying off – wingers. Jesús Navas in particular gives them lightning pace and direct running on the right. Then there's the direct route, with the strength and ability to hold the ball up of Negredo or Llorente. Spain, in short, have it all.
Team – 4-4-2
Casillas; Ramos, Piqué, Puyol, Capdevila;. Xabi Alonso; Iniesta, Xavi, Silva; Villa, Torres.