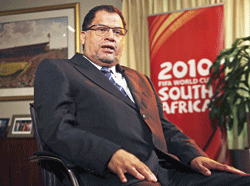 The focus of the chief executive of South Africa's historic first World Cup is changing.
Having spent much of the past six years defending the award of the finals, Danny Jordaan can now talk more about what he expects will happen, rather than what other people fear.
He accepts that the criticism had been inevitable, recalling: "Athens had a terrible time before the 2004 Olympics and months before the 2006 World Cup in Germany a group came out with a study which claimed four of the stadia were unsafe and created a panic.
"As an event organiser you brace yourself, knowing that your friends in the media will question everything. If you don't want to be questioned, find some other job. Sometimes you can see them walk away and you think: 'They're not convinced.' That's life."
But those days are becoming fewer for Jordaan with the realisation of the imminence of the finals. He says: "We've been talking for so long about the World Cup coming to South Africa and now, at last, it's a reality; not something we're dreaming about that one day should happen in our country.
"It's not only about football. We've just celebrated 20 years since Nelson Mandela's walk out of prison and this is another big step along that path and a tremendous test for the country."
Reviewing the wider issues, Jordaan has no doubt about the public relations power of sport in general, and football in particular, on the worldwide stage.
He says: "Right back in 1994, when we first started talking about the World Cup, we believed that it would help improve our infrastructure and our image internationally.
"Only sport can do this. What can I organise to bring 400 television crews into my country,
to bring 15,000 journalists into my country? What else can I do to bring 350,000 foreign visitors into my country?
"Of course, each one will form his or her own opinion. But every day 15,000 articles are being written about the country; every day there are 400 international broadcasts over 30 days. All this can change perceptions.
"What else is there to use if not a major event like a World Cup? I can tell you: it's not been created yet."
The one snag over which Jordaan has no influence is Bafana Bafana. Every host nation needs its team to go as far as possible – at least beyond the group stage – to invest the tournament with homeland momentum.
This is a serious challenge for South Africa, which may be one reason why Jordaan is hoping to see some strong performances from all the other African teams.
Then, on July 12, Jordaan will be out of a job for the first time in a decade. He has mixed feelings and admits: "I'm happy to see the end of a road, of a dream, of a struggle, a pursuit, but I am beginning to realise there is a life beyond July 11 and I need to discuss the next steps.
"From South Africa, where am I going next?"