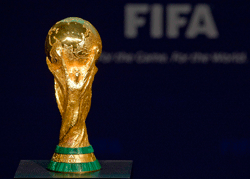 Can David Beckham and co secure the 2018 World Cup for England? See all the latest betting:
FIFA vice-presidents Jack Warner and Issa Hayatou said their votes for the 2018 World Cup hosts would not be swayed by allegations that they took bribes.
Allegations of corruption were made against both in Monday's BBC's Panorama exposé.
Warner said: "Over the last decade England has supported all federations in their development activities and I commend the prime minister and the FA."
Hayatou has said that bribery claims made against him in the BBC documentary will not influence his vote.
"There is a big difference between Panoramaand my relationship with the England bid," added Hayatou. "There is no confusion in my mind."
Hayatou strongly denies taking a bribe and has threatened to sue the BBC.
The England bid team has criticised the decision to broadcast the programme only three days before the vote to decide the host of the 2018, as well as the 2022, World Cup finals.
On Wednesday, the five 2022 candidates will make their final 30-minute presentations at FIFA headquarters in Zurich before the 2018 bidders make their case on Thursday.
Australia, Japan, Qatar, South Korea and the United States are in the frame to host the 2022 event.
England will be up against Russia, Spain/Portugal and Netherlands/Belgium to win the right to hold the 2018 competition.
UK Prime Minister David Cameron is in Zurich to lobby FIFA executive committee members for England 2018 and, along with meeting FIFA president Sepp Blatter, has held talks with Warner and Hayatou.
"The prime minister understands the importance and power of football," said Warner.
"He reiterated his government's commitment to the World Cup and spoke extensively about England's legacy programme."
Cameron is part of an England delegation also including Prince William and David Beckham as they try to limit any damage of the Panorama programme.
Hayatou, 64, was accused by Panorama of taking 100,000 French francs (£12,900) in 1995 from sports marketing firm ISL. The now-defunct business had been lobbying to gain lucrative rights from FIFA.
However, Hayatou insists the sum was paid to the Confederation of African Football, which he heads, as part of a sponsorship deal.
The allegations concerning Trinadad & Tobago's Warner revolved around claims that he was involved in the procurement of $84,000 worth of 2010 World Cup tickets, which were ultimately destined for the black market.
Read World Soccer's in-depth guide to the bidding process
Can David Beckham and co secure the 2018 World Cup for England? See all the latest betting:
A subscription makes the Christmas perfect gift. Give a lasting gift this year and save up to 33% when you subscribe.