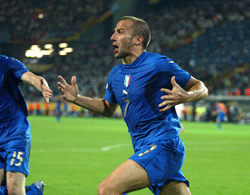 England should have few problems getting a result against Estonia this Saturday and moving one step closer to qualifying for Euro 2008 – 15:00 BBC1
Italy coach Roberto Donadoni has said Alessandro Del Piero's age played a part in the omission of the World Cup winner in the squad for Saturday's Euro 2008 qualifier against Georgia.
The absence of Del Piero, 33 next month, was on the cards after he was left out of last month's 2-1 win in Ukraine following a disappointing performance in the 0-0 draw with France.
"It is difficult to leave anyone at home, not just Del Piero. Certainly he must show he is in condition like all the players," Donadoni told reporters at Italy's training base.
"At 33-years-old it is harder than at 27 to manage certain things but my choices are not personal. I take into account the balance of a group of 20 players."
Italian football federation chief Giancarlo Abete said Del Piero's omission did not signal the end of his Italy career.
"Italian football must be grateful to Del Piero for what he has given to the national team and Juventus. But one missed call-up does nothing to his career," Abete told reporters.
"His bitterness is understandable but it is not a definitive end. What counts is not a single person but the worth of the team. The federation has faith in the coach's decision."

England should have few problems getting a result against Estonia this Saturday and moving one step closer to qualifying for Euro 2008 – 15:00 BBC1