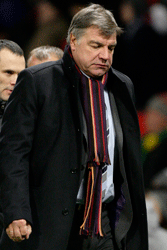 QPR are still odds-on to win the Championship despite their 3-1 defeat to Watford on Friday
Sam Allardyce has left Blackburn Rovers with immediate effect, along with assistant manager Neil McDonald.
Rovers are currently 13th in the Premier League, five points above the relegation zone.
A statement on the Blackburn website read: "The Venky's Group, owners of Blackburn Rovers Football Club, has today confirmed the departure of manager Sam Allardyce and assistant manager Neil McDonald with immediate effect.
"First team coaching duties will be taken on by Steve Kean (currently 1st team coach) for the immediate future.
"We have taken this decision as part of our wider plans and ambitions for the club. We would like to put on record our thanks to Mr. Allardyce for his contribution to Blackburn Rovers Football Club."
Rovers lost 2-1 to ten-man Bolton at the weekend, with Allardyce accusing his players of "defending like a bunch of old women." A fortnight ago they were hammered 7-1 by Manchester United at Old Trafford.
A statement from Allardyce, via the League Managers' Association, said: "I am very shocked and disappointed to be leaving Blackburn Rovers," said the 56-year-old Allardyce.
"I am extremely proud to have managed this club and I enjoyed a fantastic relationship with the players, my staff and the supporters during my time in charge.
"I now wish them and the football club every success for the future".
Richard Bevan, chief executive of the LMA added: "When new owners take over a club, sadly, the manager's position often hangs by a thread. To Sam's great misfortune this has now happened twice and, on both occasions, it has been extremely difficult to understand the thinking behind the dismissal. It is ironic that one minute Sam can be proposed as the next England manager and the next, he finds himself out of work."
QPR are still odds-on to win the Championship despite their 3-1 defeat to Watford on Friday
A subscription makes the Christmas perfect gift. Give a lasting gift this year and save up to 33% when you subscribe.