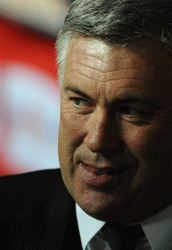 FA Cup winners Chelsea are 9-2 to retain the trophy in 2010. Click here for a full list of early FA Cup prices for next season.
New manager Carlo Ancelotti has set his sights on winning the Champions League with Chelsea.
Ancelotti, who stepped down as Milan coach on Sunday and signed a three-year contract with the Blues on Monday, twice won the Champions League as manager of the Rossoneri and wants to emulate that success at Chelsea.
Blues owner Roman Abramovich is desperate to land European football's elite competition prize and hopes that Ancelotti can deliver.
Speaking to Chelsea TV the Italian said: "Chelsea have a great record, five semi-finals in six years is a beautiful score but now we have to win. [You need] great motivation and the right objective, and at Chelsea it is easy to find the right objective: to win the Champions League, the Premier League, the FA Cup and the Carling Cup.
"All of that, naturally, is not easy but the right way [to do it] is to create a group of people that work well together.
"Chelsea and Milan are great teams in Europe and they want to win all the competitions so I think there will be the same pressure. For me the Champions League is a beautiful sensation. When I was a player I won [the tournament] two times, in 1989 and 1990.
"It was a fantastic moment and the same when I was a coach with Milan in 2003 and 2007. The Champions League for me is the best competition in the world and everyone wants to win it."
To bring the European Cup to Stamford Bridge Ancelotti will have to succeed where Claudio Ranieri, Jose Mourinho, Avram Grant and his immediate predecessor Guus Hiddink have all failed.
Ancelotti, who officially begins his new job on July 1, said he was looking forward to the demands of the Premier League, where the football is more physical than that found in Serie A.
"I watch all the matches on television," he said. "I like the Premier League because I think there are great teams and they play good football. Less tactical matches, very speedy and I like this football.
"In Italy the matches are very tactical. The teams come to defend well and only after that to attack, the matches were about control and not so speedy."
Ancelotti is the third Italian to manage Chelsea, following Gianluca Vialli, who coached the club from 1998-2000 and Ranieri who was there from 2000 to 2004.
FA Cup winners Chelsea are 9-2 to retain the trophy in 2010. Click here for a full list of early FA Cup prices for next season.
For more fascinating features, subscribe and save 30% and use the below link?