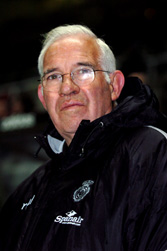 Spanish national coach Luis Aragones believes he will be absolved of blame for his racist comments about Thierry Henry and the derogatory remarks he made about the English.
The Spanish Anti-Violence Commission met last week to discuss Aragones' remarks and to discuss whether the coach had a role in provoking the racist chanting directed at England's black players during the friendly against Spain on November 19.
The Commission delayed judgment until the Spanish FA (RFEF) elected a new president.
Maria Angel Villar has since been re-elected RFEF president and met Monday with Aragones – to discuss only team affairs.
"I don't think that the Anti-Violence Commission (has) the power to sanction me," he told Diario AS.
"I haven't done anything to be punished for, so I'm not expecting a call from them. But if they call me, I will defend myself as my conscience is clear."
Aragones also referred to the racist abuse suffered by Cameroon international Samuel Eto'o when Barcelona played in Getafe last Saturday.
"It is as if the president of Getafe (Angel Torres) feels racist because of what happened to Eto'o. I don't think that is the case," he said.
Afterward, Torres said he felt "ashamed" at what he heard Saturday night and has promised to expel anyone on his team caught making racist chants.
Aragones has not apologized for his remarks or criticized the racist chanting aimed at England's black players.