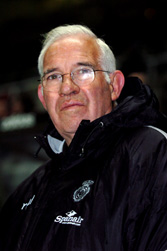 Spain coach Luis Aragones has revealed that he will quit his role if his team does not qualify for the 2006 World Cup.
Spain need to win both of their remaining encounters against Belgium and San Marino, and hope that Serbia and Montenegro drop points, to qualify automatically for next year's finals.
"I am sure that Spain is going to the World Cup and that we will do well there," said Aragones.
"If we win both our next two matches then I think we will finish top of the group.
"If we ended up not qualifying then I would not remain in charge because I will not have achieved the target, but I am confident that we will be there and that we will qualify automatically."
The pressure is on Aragones to ensure qualification, but he sounded unconcerned.
"When I took this job I prepared myself and found out about every aspect and I accept everything that the role brings with it," he added.
"Criticism does affect me slightly. What I do not like is lies, but I understand it all. I know whether or not I have done my job properly before a game starts.
"I am in the eye of a hurricane in this job, but the world of football does not make me nervous. I normally focus on the positives and try to live in the real world."