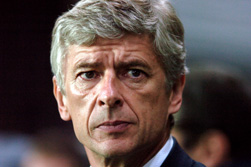 Give a euro to Arsene Wenger for every time the expression "the French connection" has been used in relation to Arsenal and he'd probably have enough money to buy another of his "wonderkids".
Arsenal have become an honorary French club, or so I've heard on many occasions from compatriots of mine; and if you wish to have proof of this, here is one bit of evidence: earlier this year my magazine, France Football, commissioned a polling institute to gauge the popularity of foreign clubs in France. The Gunners finished only just behind top-rated Real Madrid, with Milan, Juventus, Liverpool and Manchester United lagging well behind.
The appeal of Arsenal's playing style cannot alone explain why a London club which was, at best, considered with indifference before Wenger arrived should now inspire such devotion. In fact, when Arsenal were talked about, it usually was in less than flattering terms: the dire battles fought by George Graham sides against Paris Saint-Germain and Auxerre were hard to forget and harder to forgive.
How dramatically things can change: the dent caused to Arsenal's status by the departure of Thierry Henry will be no more than superficial, provided that the team do not suffer a calamitous collapse next season. For one thing, Henry, popular as he is with advertisers, has never caught the imagination or tugged the heartstrings of the French quite like Zinedine Zidane did. His perceived aloofness grates with a significant number of his countrymen, who also reproach him for his perceived failure to light up truly important occasions.
Wenger's imprint has the mark of permanence, or what can pass for such in the football world. In that, he stands alone in the history of French club managers; Albert Batteux, Guy Roux and Coco Suaudeau, all of them legends at Reims, Auxerre and Nantes respectively, never even tried to impose themselves on another country, let alone England.
To a majority of Frenchmen, Wenger is a source of great pride, the "pioneer" who proved that "our" managers did not have to coach the national team of one of France's former African colonies to be successful abroad; the "professor" who taught the English a thing or two about the game they'd invented (how sweet is that?); and the "alchemist" who turned Henry, Patrick Vieira, Emmanuel Petit and Robert Pires into world and/or European champions.
But Wenger, and consequentially Arsenal, have their critics too. To them, the coach is the almost-traitor who ruled himself out when given the chance to manage France, the vampire who bled and keeps bleeding the French League of its best young talent, without consideration for the impact it might have on the competition or on the players themselves.
His work as a pundit for TF1, France's most popular television network, has done very little to dim his (totally unjustified) reputation of being remote; and the numerous spats he's had with the French federation about the release of his international players for friendlies have eroded the credit he enjoyed with the supporters and journalists for whom club comes a distant second to country in the loyalty stakes.
First-time French visitors to the Emirates stadium, and Highbury before that, are often surprised that the emotional bond he shares with Arsenal fans should be so manifest; to them, Wenger is to be admired, respected or quarrelled with; but liked, loved even? In fact, has he ever been "one of us"? Wenger has not managed a side based in France since 1987; Monaco, where he worked from that year until 1994, may play in the French League but the fact they are based in the principality means they are viewed with a mixture of wariness, resentment and envy by French clubs who do not enjoy the advantage of operating from a tax haven.
It could be said that Wenger has been an outsider from the start and that his exiles in Japan and then England have merely confirmed that he is "a man of the border", a phrase I've heard him use more than once, sometimes with a hint of self-satisfaction. But this footballing vagabond is also quick to establish deep roots wherever he's given a chance to do so – not in a country, in a club. He left Monaco because he was sacked by a myopic board; he left Nagoya Grampus Eight because his contract had expired and he could not ignore a proposal to coach in England; nearly 11 years on, and whatever the papers might say, he is not leaving Arsenal.
In France, where management contracts are signed and torn up in revolving doors, such staying power and loyalty have added to Wenger's mystique and to the attraction of his club. What's more, most French football supporters do feel some degree of inadequacy when they compare themselves to their English counterparts; the regret that there is almost a complete absence of a "club culture" in France has contributed to the view of Wenger and Arsenal as objects of fantasy.
The loss of Henry will not endanger this relationship in the short term. In any case, fewer and fewer people believe that his departure will prove more detrimental to the club than to himself; no one is in any doubt that Wenger let the reins loose on his thoroughbred because he felt that it would not be so long before he'd be heading for the knacker's yard.
Another generation of French footballers is already being groomed at the London Colney training ground; Abou Diaby owes his first senior cap to Wenger's faith in his talent, and it shouldn't be too long before Gael Clichy and Bakary Sagna follow suit. The Arsenal connection – with France – lives on, and will do so for as long as Wenger feels at home at the club he has reinvented from A to Z; that is to say, for quite some time to come.
By Philippe Auclair (London correspondent of France Football magazine)