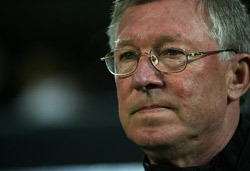 Scotland will need to bounce back from their 3-0 defeat against Holland last weekend when they host Iceland this Wednesday
Manchester United manager Sir Alex Ferguson believes Barcelona will represent the biggest obstacle to the Red Devils retaining their UEFA Champions League crown.
"Barcelona are the form team," Ferguson said of the remaining eight clubs in this season's Champions League.
"They've been terrific this season and everyone's taking notice of them. Their first-half performance against Lyon in the second leg of the first knockout round [Barcelona won 5–2 to go through 6–3 on aggregate] was absolutely brilliant – they were four up in no time.
"They can be a threat to anybody and are quite rightly one of the favourites. They got off to a great start to the season and it wasn't until January that they hit a blip, and that can happen to everyone. They're over that now, so they'll be the threat."
United beat Barcelona 1–0 courtesy of a Paul Scholes goal in last season's semi-final but Ferguson has rarely seen his team confined their own half as they were during the second leg at Old Trafford.
Ferguson described Lionel Messi as a "fantastic" player, and the fact that United cannot meet Barcelona until the final was one of the reasons Ferguson felt a quarter-final against FC Porto, followed by a possible semi-final against Arsenal or Villarreal, was a "good draw" for his side.
Ferguson, speaking to the Inside United magazine, believes the Catalan club, six points clear in La Liga are the team to fear in their side of the draw.
"The English teams have proven the strength of the Premier League in recent years," he added. "Last season we had three in the semi-finals and two in the final; the previous [season] there were three in the semis and Liverpool made it to the final. But we have to recognise that our threats don't just come from England, the big one will come from Barcelona."
Ferguson added: "I'm not sure they've improved a lot from when we played them last season but they have had a better defensive record since Josep Guardiola took over as coach last year.
"There has maybe been a bit more concentration on defending than there had been in previous times. That's not a criticism of Frank Rijkaard, I just think Guardiola has brought in the awareness that defending is just as important as attacking.
"Gerard Piqué, for instance, left us to go back there and has done really well for them. We always knew of his abilities – good talent, mobility and a winning mentality – so I think he's improved them."
Scotland will need to bounce back from their 3-0 defeat against Holland last weekend when they host Iceland this Wednesday
For more fascinating features, subscribe and save 30% and use the below link?