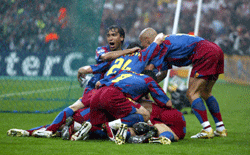 Barcelona scored twice in the last 15 minutes to beat Arsenal in the Champions League final.
Sol Campbell's header gave Arsenal a shock 37th minute lead – after goalkeeper Jens Lehmann had been sent off for a foul on Samuel Eto'o.
Thereafter Barcelona dominated possession and they were rewarded for their sustained pressure late in the second half when they struck twice through Eto'o and Belletti.
Arsenal looked the brighter side from the kick-off and they nearly took the lead when Henry turned brilliantly in the Barcelona box, only to be denied by the Victor Valdes from close range.
From the resulting short corner, Henry fired from the edge of the penalty area but his fierce effort was parried by Valdes.
The next major incident was possibly the turning point of the game as Ronaldinho played in Eto'o, who was brought down by the onrushing Lehmann as he rounded the keeper.
Giuly tapped in the loose ball, but Arsenal were spared from going behind because referee Terje Hauge had already blown for the foul. However, the pay-off saw Lehmann sent off with Manuel Almunia coming on for the unlucky Robert Pires.
Barcelona were starting to dominate possession when Arsenal took a surprise lead on 37 minutes.
Arsenal were fortunate to be given a free-kick when Emmanuel Eboue went down after minimal contact from Carles Puyol.
And from the resulting free-kick Barcelona Campbell steered Henry's free-kick past Valdes.
Arsenal hung on for the remainder of the first-half, with Almunia brilliantly palming Eto'o's shot against the post after he escaped the attantions of Campbell.
Barcelona introduced the more creative Andres Iniesta coming on for the injured Edmilson.
Despite spending most of the game chasing the ball, Arsenal were still dangerous on the break, and Henry and Cesc Fabragas combined to set up Aleksander Hleb, but he pulled his shot wide.
Ljungberg was then denied by Valdes after he burst into the Barcelona box.
Henry then had a wonderful opportunity chance to double Arsenal's lead midway through the second half after he collected Hleb's through ball, but Valdes saved low down.
Former Celtic striker Larsson had been introduced as a substitute, and his contribution was crucial as Barcelona finally broke the Arsenal resistance.
He helped on Deco's pass to Eto'o, who slotted his shot inside Almunia's near post.
Four minutes later, Larsson's spotted Belletti powering into the Arsenal penalty area, and his deft pass was hammered home by the full-back.
A tired-looking Arsenal never looked like regaining parity as Barcelona controlled possession for the remainder of the game.
Barcelona 2-1 Arsenal
Barcelona: Valdes, Oleguer (Belletti 71), Marquez, Puyol, Van Bronckhorst, Deco, Edmilson (Iniesta 45), Van Bommel (Larsson 61), Giuly, Eto'o, Ronaldinho.
Subs Not Used: Jorquera, Motta, Xavi, Sylvinho.
Booked: Oleguer, Larsson.
Goals: Eto'o 76, Belletti 80.
Arsenal: Lehmann, Eboue, Toure, Campbell, Cole, Pires (Almunia 20), Silva, Fabregas (Flamini 74), Hleb (Reyes 85), Ljungberg, Henry.
Subs Not Used: Bergkamp, Van Persie, Senderos, Clichy.
Sent Off: Lehmann (18).
Booked: Eboue, Henry.
Goals: Campbell 37.
Att: 79,500
Ref: Terje Hauge (Norway).