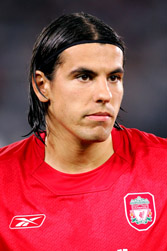 Liverpool striker Milan Baros is set to complete his move to Aston Villa on Tuesday.
The European champions accepted Villa's bid of about £6.5m for the Czech Republic striker, who has agreed personal terms and will undergo a medical on Tuesday morning.
"I'm delighted we have finally got our man. He'll give us a spark we need up front," Villa boss David O'Leary told the club website.
Lyon are thought to have bid £8.5m for Baros but the 24-year-old wants to stay in the Premiership.
Since the arrival of Peter Crouch at Liverpool, Baros has found himself fourth in the pecking order of strikers at Anfield.
He has made just three appearances off the bench this season.
Baros recently said: "Villa are a quality club and I do not consider this a backward step at all. My situation will be better there."
Villa right winger Nolberto Solano has been linked with a move to Liverpool as part of the deal, and O'Leary insisted he will not stand in Solano's way should he want to leave.
"I will never keep someone, at any club I am at, who wants to leave," said O'Leary. "That is the bottom line.
"Nobby has seen the headlines and he has asked about it.
"But I told him no-one from Liverpool has made contact with me about it and Nobby was fine."