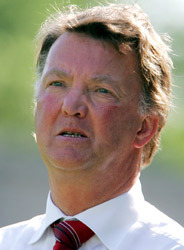 Bayern Munich have revealed their interest in Dutch coach Louis van Gaal becoming their next manager, although they confirmed that he is only one of several candidates to take over from next season.
Bayern sacked coach Jurgen Klinsmann last week after 10 months following a string of disappointing results.
Former Bayern coach Jupp Heynckes replaced Klinsmann for the remainder of the season but Bayern said a new coach would take over from July 1.
"Van Gaal is one of them (candidates)," Bayern General Director Karl-Heinz Rummenigge told tz. "But there are several other candidates as well."
Van Gaal, who has coached Barcelona, Ajax and the Dutch national side, steered outsiders AZ Alkmaar to the Dutch title this season.
"There is no reason to label one candidate as a frontrunner and another candidate as number two. After the talks we will have with the candidates, we will then sit down and decide who will be the new coach of Bayern from July 1," Rummenigge said.
For more fascinating features, subscribe and save 30% and use the below link?