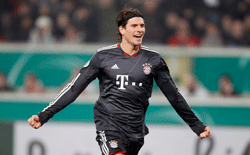 France v Brazil: Joe Kiddle gives his best bets for tonight's glamour friendly…
Chelsea offered Bayern Munich €42 million last month for striker Mario Gomez, but the German outfit turned them down, the Bundesliga's leading scorer has revealed.
"I only found out about the offer after the club had turned it down," the 25-year-old Germany international told Sport Bild.
"But it wouldn't have mattered anyway. I am already at a top club and I am playing where I always wanted to."
Chelsea instead ending up paying £50 million for Liverpool striker Fernando Torres just before a transfer deadline, breaking the British transfer record in the process.
Gomez joined the defending Bundesliga champions in 2009 from Stuttgart in a €30 million-move. After a slow start, he is the Bundesliga's top striker this season, with 16 goals.
It is understood that Bayern were keen to hold on to Gomez because of a serious knee injury suffered by Ivica Olic earlier in the season, which left them with Miroslav Klose, Thomas Muller and Gomez as the only forwards available.
France v Brazil: Joe Kiddle gives his best bets for tonight's glamour friendly…
Take advantage of the sales by saving up to 36% on a subscription to World Soccer